Many people think that you need a doctor's referral to get specialized care. People often see their primary care physician first for any ailment, and your doctor directs you to the right specialist for further investigation and diagnosis. Recently, with rising healthcare costs and a change in physical therapy training, many states now allow direct access. This means if you have a condition involving your muscles or joints you have the right to see a physical therapist (a musculoskeletal specialist) without a referral from your doctor. This can depend on your insurance policy, however. While this is not a federal law, several states have some version of direct access. Oregon is one of them!
According to a 2016 article in the American Physical Therapy Association's magazine, PT in Motion, Oregon is one of several states that provide unrestricted direct access. A study done by the American Physical Therapy Association has shown the same quality of care, no adverse events and lower cost for patients who saw a physical therapist through direct access compared to those who went to a primary care provider first.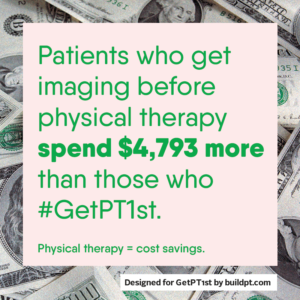 Physical therapists are trained to rule in and rule out red flag signs and symptoms. If we are in doubt about a diagnosis, then we refer you back to a medical doctor to receive the appropriate care. More often, though, people see their doctor for a muscle or joint condition and are then referred to a physical therapist. Direct access allows you to skip a step, make one less appointment, save money, and go directly to the person who can treat your symptoms. You wouldn't go to a physical therapist first for a sore throat, and you shouldn't go to your primary care provider first for a pulled muscle.
So, if you think you have a musculoskeletal injury, see your physical therapist first! Start by calling our office (503)292-5882 and our helpful staff will get you an appointment. They can check your insurance company's requirements/coverage or explain more about our reasonable cash pay rates.
Chie Tadaki, PT, DPT