2022.11.10
Basics, Part 2

Hello, Zeborah Dazzle, PT, WWF here. I am the spokes-zebra and patient educator for Good Health Physical Therapy and Wellness.

As some of you know, while I am a physical therapist who treats all kinds of problems, including all kinds of bone and muscle problems, my special interest is Ehlers-Danlos Syndrome (EDS) and Hypermobility Spectrum Disorder (HSD). Sometimes it is wise to pause and go back to basics. That is what I will focus on with this post.

By the way, in the last post while considering the types of Ehlers-Danlos, I forgot to mention that it occurs across all ethnic and racial backgrounds. And for some patients, inheritance is dominant, meaning that only one parent can pass it to the kids (autosomal dominant) and in some recessive, meaning both parents would have to have the gene to pass it on (autosomal recessive).

What is Hypermobility Spectrum Disorder and How is it Different from Ehlers-Danlos?

In the last post, we talked about how 12 of the 13 types of Ehlers-Danlos Syndrome have genetic tests, but that the most common, hypermobile Ehlers-Danlos Syndrome (hEDS, 80-90% of all EDS) does not. This diagnosis is done by a set of criteria. However, there are many patients who may be generally hypermobile but do not fit the formal criteria for hEDS. These patients are then diagnosed with Hypermobility Spectrum Disorder (HSD), which it should be noted does not mean that they have less pain or fewer symptoms than someone with the diagnosis of hEDS – but more on that later.

At this point in writing this, I see that I have already used the word "hypermobility" many times and used it many times in the last blog post too. So, I think it would be wise to consider what this means.

A joint that is too flexible without adequate soft tissue support is hypermobile.

All joints in the body exist in a balance between flexible and inflexible, or said another way, stable and unstable. Some joints are naturally more stable than others with each joint having its own best level of stability. There are a number of factors which hold the bones together so they can do their job. One factor is the shape of the bones. For example, the bones of the skull are shaped like puzzle pieces which fit together closely. A slight suction between smooth joint surfaces which are lubricated with joint fluid ("synovial fluid") is another factor which holds bones together — like a suction cup on a windowpane but less strong. By far though, the greatest support to the joints is the soft tissue support around it such as the ligaments and the surrounding muscles. Therapists think of the optimal state of a joint as being flexible and strong.

When a joint is unstable because the soft tissues are broken (such as a severe sprain) or too stretchable or too fragile, this leads to too much mobility at the joint surfaces. This is not just a problem of HSD and hEDS. Even in people with normal connective tissue, sprains, strains and sometimes aging can leave joints too mobile. And weak muscles can also cause local problems to joints. Working with this kind of problem is daily fare for physical therapists. But in HSD and hEDS multiple joints of the body if not all are affected by faulty connective tissue not just one or two localized joints.

So, HSD is an umbrella diagnosis for all patients who are excessively mobile in most or all joints of their body. Like hEDS this is thought to be inherited, but no specific genetic mutation is known. hEDS is under the umbrella of the hypermobility spectrum disorder diagnosis, just more specific.

What does the word "spectrum" mean in Hypermobility Spectrum Disorder?

We say that patients with HSD and hEDS are on a spectrum because of the huge variation in symptom levels they can experience. Thinking back to high school, you may remember a thing called a "bell curve", also sometimes called a normal distribution. This is a graph of how often something happens or how often a specific variable shows up in a data group. With HSD and hEDS, some patients have very few or even no symptoms. In a graph of how many patients with HSD or hEDS have symptoms of different severity, these people would be on the left, mild, side of the curve. Where patients with many or severe problems would be on the right, severe side. Those with moderate problem levels would be the greatest in number and near the average center.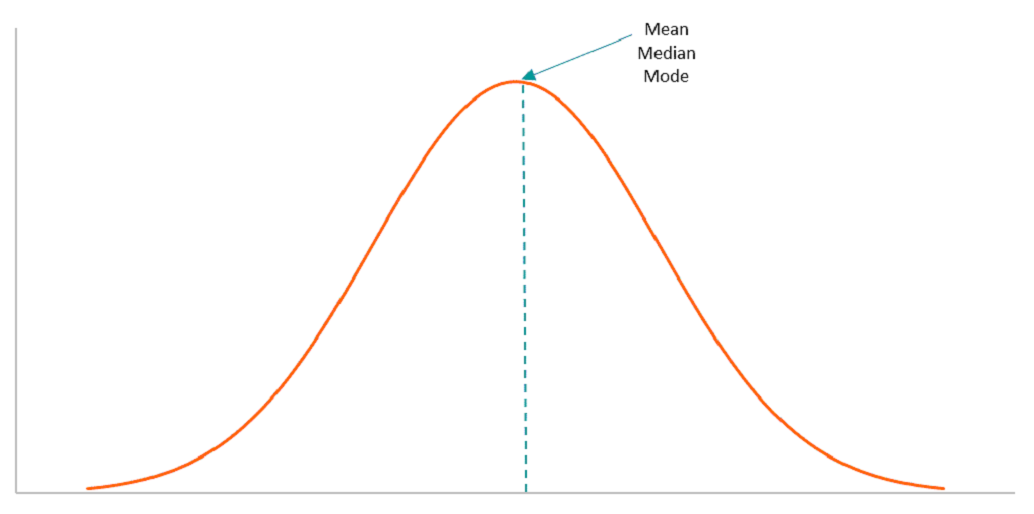 According to the Ehlers-Danlos Society, the occurrence of HSD in the population is about 1/500. This means that out of 332 million people in the US, about 664,000 or .2% are hypermobile. I suspect this estimate is low due to under diagnosing.

I am trying to keep these blog posts bite-sized, meaning about two pages. So, I will continue in the next post and consider the kinds of symptoms that HSD and hEDS can cause, and also what some of the principles of treatment are.

Until then, Cheers! Zebbie

P.S. More information is available at the Ehlers-Danlos Society website. I particularly like this downloadable PDF overview: https://ehlers-danlos.com/wp-content/uploads/EDS_Awareness_2017_v3_img_2021.pdf

Thanks to Dr. Mark Melecki, PT for his assistance in writing this blog. (It is very challenging to type with hooves rather than fingers. Thanks Mark!)